---

Construction Law for Design Professionals, Construction Managers, and Contractors
by Justin Sweet, Marc M. Schneier, and Blake Wentz
A condensed-and completely revamped-version of the bestselling authority on engineering law, Legal Aspects of Architecture, Engineering and the Construction Process (now in its 9th edition) by Justin Sweet and Marc M. Schneier. For this new book, the authors have directed the text at engineering, architecture and construction management students. Given the authors' long and deep understanding of the intersection between the law and the construction industry, professors and students can trust this text is unparalleled. The addition of Blake Wentz to the author team emphasizes the commitment to the field.
Click here: Construction Law for Design Professionals, Construction Managers, and Contractors
---
  2013 New Edition!  Cengage Learning 9th edition. 
Legal Aspects of Architecture, Engineering and the Construction Process
by Justin Sweet and Marc M. Schneier
The primary focus of this text is to provide a bridge for students between the academic world and the real world. This bridge is built through an understanding of what is law, how law is created, how law affects almost every activity of human conduct, and how legal institutions operate.
Intended mainly for architectural and engineering students, but increasingly for those in business schools and law schools, this text features a clear, concise, and jargon-free presentation. It probes beneath the surface of legal rules and uncovers why these rules developed as they did, outlines arguments for and against these rules, and examines how they work in practice.
Updated with the most recent developments in the legal aspects of architectural, engineering, and the construction processes, this text is also a valuable reference for practitioners that has been cited in over twenty-five court decisions.
For a more complete description of contents, a list of the chapter headings, testimonials, and how to purchase, visit the publisher's website:
Click here: Legal Aspects of Architecture, Engineering and the Construction Process, 9th Edition
---
Construction Litigation Reporter
Editor: Marc M. Schneier
Published by Thomson Reuters/West, 11 times/year
The law governing construction disputes is constantly evolving and increasingly complex. Today's construction law is not limited to "tried and true" issues such as payment disputes, differing site conditions, defective design, or parsing the latest AIA standard form contracts–central as these topics remain. Today, seemingly ancillary legal doctrines such as bankruptcy, the economic loss doctrine, criminal liability and copyright law also impact upon the legal rights and liabilities of owners, contractors, design professionals, sureties and other project participants.
Construction Litigation Reporter keeps you up-to-date on all issues impacting your construction industry clients. It provides timely and comprehensive reporting and analysis of these topics. Each monthly issue contains summaries of leading federal and state cases, often accompanied by an extensive commentary of the decision's impact and relevance. Each issue surveys and addresses the full range of legal topics affecting construction industry participants.
Construction Litigation Reporter covers a wide range of topics, including:
Application of the economic loss rule to a contractor's misrepresentation claim against the project's A/E;
Liability insurance coverage for defective construction;
Proving labor inefficiency costs using either the "total cost" or "measured mile" methods;
Whether a debtor contractor's violation of a state's trust fund statute means that the debtor was acting in a "fiduciary capacity" for purposes of the Bankruptcy Code's nondischargeability provision;
Owner or general contractor liability for the injury or death of a subcontractor's employee on the worksite; and
Whether an owner has an implied nonexclusive license to use its architect's design to complete the project.
Construction Litigation Reporter also provides the busy construction law practitioner with research tools designed to save time and money. Many case summaries are followed by in-depth commentaries that not only analyze the deeper implications of the court's decision, but also compile the relevant case law throughout the country. In addition, each issue of Construction Litigation Reporter contains a detailed Subject Matter Index, which is cumulated annually. Use the annual indexes as a digest of the most recent construction law cases.
Construction Litigation Reporter includes feature articles written by practitioners especially for the Reporter. Recent articles have covered:
Lender liability claims;
The "measured mile" method of proving delay damages;
The statutory employment doctrine;
Additional insured endorsements; and
The "waiver of claims" clause in AIA contracts.
These articles, found only in Construction Litigation Reporter, combine scholarly research with practical advice, to give you an edge over your competitors. Construction Litigation Reporter delivers breadth of case law coverage, in-depth analysis, feature articles, and cumulative subject matter indices. It provides you with the timely information you need to stay current and informed.
Subscribe now 
Construction Litigation Reporter
---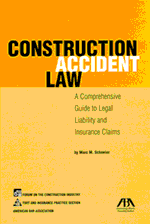 Construction Accident Law: A Comprehensive Guide to Legal Liability and Insurance Claims
by Marc M. Schneier
(American Bar Association: Forum on the Construction Industry & Tort and Insurance Practice Section 1999)
Opening words of review by Owen J. Shean, 19 Construction Lawyer 43 (Oct. 1999):
When someone is killed or seriously injured on a construction project, the site can quickly be crawling with police, insurance investigators, and OSHA. How should the client respond to inquiries? What is its legal exposure under the workers' compensation laws versus tort claims by survivors? Will the company be cited for OSHA violations, and what impact will such citations have on the civil liability of the company? Marc Schneier addresses many of these issues in Construction Accident Law, published by our own Forum on the Construction Industry. In one volume, the author identifies and describes the major areas of law applicable to job site accidents …
For a more complete description of contents, a list of the chapter headings, testimonials, and how to purchase,
visit Construction Accident Law.
---
Articles
Annotation, Architect's or Engineer's Liability for Injury or Death of Construction Worker on Construction Site Project, 56 A.L.R.7th Art. 7 (2020)
A Response to Mr. Snider's Platonic Idea of "Quality" in Construction Contract Drafting (with Help from Ludwig Wittgenstein), 40 Construction Lawyer 15
(Summer 2020)
Annotation, What Constitutes a "Claim" Under 41 U.S.C.A. § 7103(a) of the Contract Disputes Act, 41 U.S.C.A. §§ 7101 to 7109—Federal Court Cases, 53 A.L.R. Fed. 3d Art. 5 (2020)
Annotation, Considerations Raised by Election Doctrine Under 41 U.S.C.A. § 7104 of the Contract Disputes Act, 14 A.L.R. Fed.3d Art. 10 (2016)
 Annotation, Construction and Application of Brooks Act, 40 U.S.C.A. §§ 1101 et seq., 13 A.L.R. Fed.3d Art. 4 (2016)
 Annotation, General Contractor's or Subcontractor's Liability Under Restatement Third, Torts: Liability for Physical and Emotional Harm, for injuries to Employees of Other Contractors on Project, 14 A.L.R.7th Art. 1 (2016)
Annotation, Tort Liability of Project Architect Or Engineer For Economic Damages Suffered by  Contractor Or Subcontractor, 61 A.L.R.6th 445 (2011)
Liability of Owners and General Contractors for Workplace Accidents Part I: Premises Liability, 
Construction Briefings (Nov. 2004)
Liability of Owners and General Contractors for Workplace Accidents Part II: Defenses to Premises Liability, Construction Briefings (Dec. 2004)
Architect and Engineer Liability Not Based on the Professional Standard, 25 
Construction Litigation Reporter 327 (Oct. 2004)
The Independent Contractor Rule: The Shifting Bedrock of Construction Accident Law, Construction Briefings (Aug. 2002)
A Construction Law Primer, GP Solo ( ABA April/May 2001)
The Statutory Employment Doctrine: A Potent Defense Against Claims by Injured Construction Workers, 21 Construction Litigation Reporter 3 (2000)
ERISA Preemption of State Law Remedies: Impact on Union Trust Fund Actions to Recover Unpaid Benefit Contributions, 15 Construction Lawyer 
14 (April 1995) (with Frank L. Wagner)
The Magnuson-Moss Warranty Act: Federalizing Homeowner Construction Defect Cases, 13 Construction Lawyer 1 (Oct. 1993)
Architect and Engineer Liability Under OSHA's Safety Regulations Applicable to Construction Work, 13 Verdicts, Settlements & 
Tactics 82 (March 1993)
The Independent Contractor Rule — A Phoenix Arising from the Ashes, 12 Verdicts, Settlements & Tactics 178 (June 1992)
Tortious Interference with Contract Claims Against Architects and Engineers, 10 Construction Lawyer 3 (May 1990)
Architect Liability for Worksite Accidents Based on Alleged Negligent Supervision, 9 Verdicts, Settlements & Tactics 134 (May 1989)
Recovery of Economic Loss Damages in Strict Liability, 7 Construction 
Litigation Reporter 702 (Jan. 1986)
The Developing Law of Wrongful Discharge, 2 California Lawyer 24 (Oct. 1982) 
Comment, Public Policy Limitations on the Retaliatory Discharge of at Will Employees in the Private Sector, 14 U.C. Davis Law Review 809 (1981)